News Lighting the way for self-service solutions
Lighting the way for self-service solutions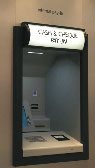 UK based Banking Automation designs and assembles automated self-service solutions including cash deposit machines, machines for the exchange of high denomination bank notes into lower denominations and rolls of coins, and coin deposit systems. Its customers range from banks and financial institutions to local government offices, retail outlets and the transport industry (where, for example, fares and payments have to be deposited).

Its machines are built using the latest technology to ensure that they are flexible and safe to use, and they have such design features as keypads, card access, barcode readers and touchscreen displays for ease of use.

When designing the machines, however, the company realised that not only is energy efficiency becoming a greater issue, but the machinery needs to be cost effective and aesthetically pleasing. As a result, it turned to IDEC Electronics for a suitable method of lighting the user interface area of its machines, which in the past were typically illuminated with fluorescent lighting.

To meet the requirements, IDEC supplied its LF1B LED illumination units. Available in four different sizes, these slim modules provide a light that is clear and bright. Offering protection to IP54, the modules generate low levels of heat and can be used in a range of industrial machinery, as well as in factory equipment, shelf lighting, and so on.

There were many benefits to using the new light source in the self-service systems. Being energy efficient, these have reduced the amount of energy consumed, meaning lower machine running costs and therefore lower cost of ownership. The modules are also lighter in weight, last longer, are more robust, and meet the requirements of machinery that is much more aesthetically pleasing by providing a cleaner light.
After all, explains the company, first impressions really do count.
---
For further information please contact the IDEC Marketing Department:
IDEC Electronics Ltd.
Chineham Business Park
Basingstock
RG24 8WA
T. +44 (0) 1256 321000
F. +44 (0) 1256 327755
E. marketing@uk.idec.com
About IDEC: IDEC Corporation designs and manufactures control automation products sold to original equipment manufacturers. With products that direct processes and systems, IDEC components are used in a wide variety of applications. Part of a global network, IDEC is known worldwide for its quality and reliability in the pushbutton industry for over half a century. With a strong presence in Asia, North America, Central and South America, Australia and Europe, IDEC products are found all over the world. For more information, please visit www.idec.com.